The Sunrise EV2 Project Homepage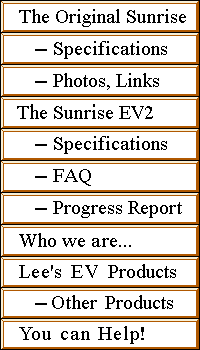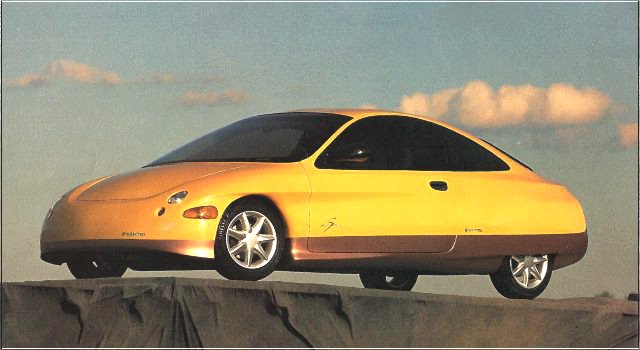 The Solectria Sunrise
---
Welcome! We are a group of dedicated electric vehicle enthusiasts whose goal is to create an affordable, high performance electric kit car that anyone of modest skill can assemble. The Sunrise EV2 is a four-passenger pure electric sports sedan, designed to meet all the safety, performance, and comfort requirements of a modern state-of-the-art automobile.
The original Sunrise was designed by Solectria Corp. using the Hypercar principles of Amory Lovins. It achieved remarkable efficiency and range, through the use of lightweight construction, innovative design, and superb aerodynamics. Unfortunately, only a handful were produced.
We bought the last unfinished Sunrise from Solectria CEO James Worden. It is being redesigned as a kit car, along the lines followed by manufacturers of light plane kits for the EAA (Experimental Aircraft Association). The steps are:
Build a working prototype, that interested parties can see and drive. Test the design and verify performance.
Publish plans, sufficient to build the entire car from scratch, just as we are doing now.
Provide key components produced from our molds and tooling, such as the fiberglass body and welded chassis parts, to simplify construction.
Produce parts kits and subassemblies. For example, all the major parts needed to build the wiring harness, body hardware, rear subframe, etc.
Offer a complete car kit. Combined with generic parts purchased new and those from a donor vehicle, anyone who can handle a screwdriver and wrench could put it together.
Someday, perhaps a fully assembled production automobile. I doubt we will get to this point for years, due to the costly regulatory requirements.
Our goal is to make the Sunrise EV2 as modular and open source as possible; like a PC clone, where many different parts can be used, from many different vendors. We'll provide the basic "box". Builders can then use any motor, controller, batteries, charger, interior, and instrumentation they like. Depending on your budget and performance requirements, your Sunrise can be AC or DC, lead-acid or lithium batteries, etc.
We look forward to having a community of Sunrise EV2 builders, where members can exchange ideas, buy/sell/trade parts, and assist others in building their cars. Check this website out occasionally to see how we're doing.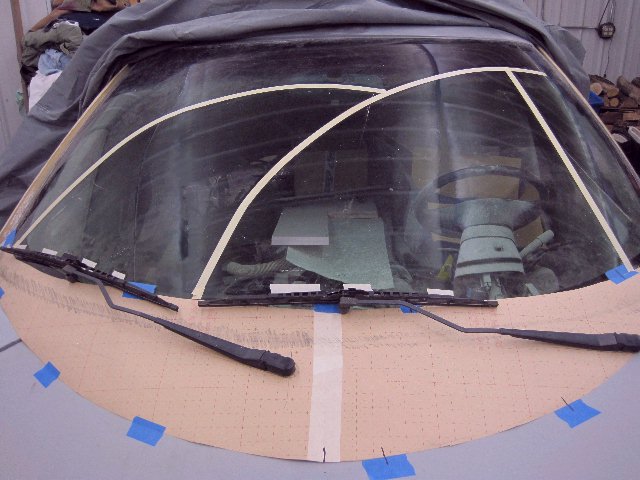 April 2, 2013: The next task is to work out the windshield wipers. The Solectria Sunrise left them exposed. The GM EV1 put them under a raised cowl to reduce wind resistance, like many modern cars. We opted to do the same. The rear edge of the hood is being raised 2", and moved about 3" aft, so the wipers can be placed under it.
The photo above shows the template for the raised cowl, with the new wiper locations and the swept area of the windshield marked. We are using the stock T'bird wiper mechanism, which establishes the geometry. It actually sweeps more of the windshield than Solectria's design.
Other recent updates:
---
In this section, I'll be regularly posting EV tips and techniques to save you money, find parts, measure performance, and improve your EV. As new ones appear, the old ones will move to the Lee's EVs page. Purchases contribute to the Sunrise EV2 Project. If you like what you see and want me to write more of them, please click the "donate" button below. :-)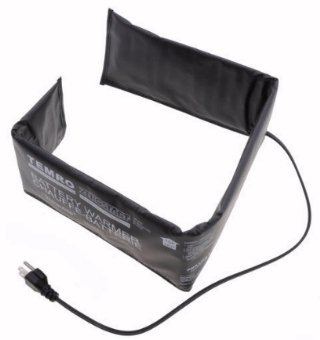 Electric Vehicle Battery Heaters
It's winter! I don't know where you are, but I'm in Minnesota where it gets COLD! So, I think it's time to talk about EV heaters. This includes both heat for the interior, and heat for your batteries.
No matter what kind of batteries you use, they will perform a lot worse when cold (just like people)! If you install about an inch of styrafoam insulation around your batteries, their own waste heat from daily driving and charging is usually enough to keep them warm. I put my batteries in such a box, with a removable lid. Leave the lid off in the summer, and put it on in the winter. A batt of fiberglass insulation is handy for this, as it is nonconductive, won't trap vent gases, and molds itself around the terminals and wiring.
You'll need battery heaters if you don't drive every day, and live in a climate with weather below freezing. With 1" of insulation, you only need about 20-40 watts per square foot of battery area. With less insulation, more heat is needed. A typical battery heating blanket is shown at right. They come in various lengths and wattages, and sell in auto parts stores for $20-$60. It's a plastic bag, with about 1/4" of insulation inside and a long piece of nichrome resistance wire. The wire is attached to a thin sheet of aluminum foil, to hold it in position and (in theory) spread out the heat. The foil is connected to the AC line cord's ground wire in case something shorts.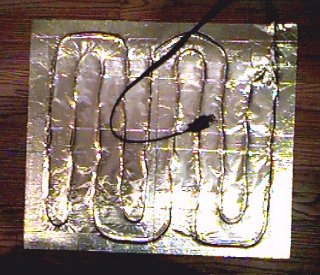 You can use these as-is, but I've found they are a little too crude to work dependably. There is no thermostat, so the battery temperature is uncontrolled. There is no fuse, so if it gets wet or pinched it can even start a fire! For reliable operation, it is better to repackage them, and add a fuse and thermostat.
Here's an inexpensive way to do it. Cut a sheet of aluminum about the size of the floor of your battery box. Take the heater apart, carefully separate the resistance wire, and temporarily tape it to the aluminum sheet. Space the wires out evenly -- if they cross or even get too close to each other, you'll get a "hot spot" that will fail. Connect the ground wire to the aluminum sheet.
Get a 10-ounce tube of high-temperature silicone sealant (intended for sealing furnace ducts and chimney flues) from your local lumber company. Apply it to the wires with a caulk gun. Cover it with aluminum foil or a polyethylene plastic sheet, so you can push the sealant around and squeeze out the air pockets without making a mess. If this heater is for flooded batteries, apply plastic to both sides with the silicone sealant to prevent corrosion and ground fault leakage currents.
Silicone needs exposure to air and moisture to cure, so it will take a long time to fully set. But with the plastic or foil cover, you don't have to wait before handling and installing it. The left photo shows one of my repackaged battery heaters.
Lay a sheet of styrafoam in the bottom of your battery box. Place the heater on top of it, with the wire side down. Now place the batteries on top of that. The wires will sink slightly into the styrafoam, and won't be pinched or damaged by the weight of the batteries. The aluminum will spread the heat evenly over all the batteries.
Coming Next...
In our next installment, I'll cover adding a thermostat and fuse. The thermostat insures that the batteries are only heated when they need it, and won't get overheated when they don't need it. The fuse is in case something shorts, so you won't burn your EV down to the wheels!
---
Donations for the Sunrise EV2 Project


Interested? Want to get involved? There are several ways you can help.

Contact us: Questions or comments? Corrections or problems with this web site? Contact Lee A. Hart by phone at (320) 656-9574, by email, or by mail at 814 8th Ave N, Sartell MN 56377-2240.

Design: Producing the best possible EV requires the best possible minds. The Sunrise EV2 development team has over 100 years of combined EV experience, but we are still learning and improving as we go. If you have ideas for improvements, can help with vehicle design, construction, or testing; or have skills you think we can use, please contact us!

Labor: The Sunrise EV2 prototype is being assembled at our shop in Rice MN. At present, we are building our prototype composite body and the molds to produce it. It's very labor intensive, so if you're in the area and have some time, please contact us about a visit. See and help build the prototype, and in the process learn how to build your own Sunrise EV2.

Components: Most of the parts and materials to build the Sunrise are being donated by our development team or interested individuals. Our motor, controller, and innumerable tools and shop time have been provided, but there is alway more. Do you have any EV related parts that could be of use? Contact us and see!

Donations: Developing a car is an expensive project. The project is entirely funded by our development team and donations from interested individuals and businesses. Donations will be credited toward future purchases of Sunrise EV2 products. Contributors are also given special attention by members of the EV2 team! Send donations to the Sunrise EV2 Project c/o Lee A. Hart at the above address. To contribute using Mastercard Visa or Paypal, use the "Donate" button below. Every penny helps!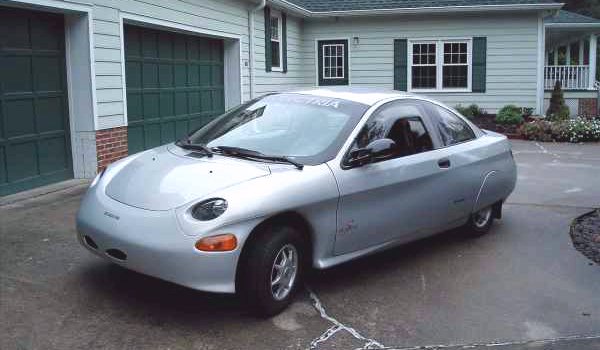 Steven Taylor's Solectria Sunrise
---
The Sunrise EV2 Project, copyright 2007-2012 by Lee A. Hart. Website created 2/4/2008 by admin. Last update 4/10/2013 by Lee A. Hart
Go to TOP of this page ................ Questions? Comments? Want to help? CONTACT US!
Web hosting provided by Turtlehut Internet Marketing http://www.turtlehut.com/